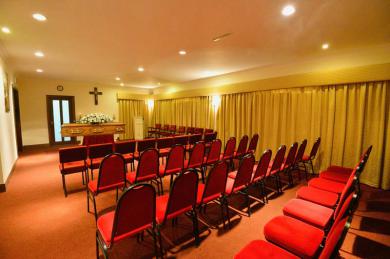 We offer the following as part of our funeral service:
The overseeing of all funeral arrangements.
Death notices on radios, national & local newspapers and www.rip.ie.
Embalming and preparation of the deceased for viewing. (see Embalming section)
Purchase of grave or locating existing grave, including the grave opening.
Lining the grave with green matting and flowers the use of public address (pa) systems.
Supply of limousines, buses & specialist wheelchair vehicles.
Arranging organists, soloists, pipers, and other musicians.
Supply of fresh & artificial flower arrangements.
Supply of coffins or caskets. (see Products section)
Condolence books, photograph enhancement & framing.
Payment of disbursements including clergy and other funeral related gratuities.
Erect temporary grave markers.
Catering and refreshments after the funeral.
All Repatriation services. (see Repatriation section)
Headstone & monumental works
Full estimate of expense either at pre-planning or when making funeral arrangements.
Any service we can't provide ourselves or that is specialised we have partnerships with credible, professional companies.
Tea and Coffee making facilities in funeral home.
Funeral home wheelchair accessible.
Funeral home chapel includes seating for sixty and suitable for funeral services.
Pre planning
For many the worry of leaving funeral arrangements to our next of kin we feel is an unfair burden and often we may wish to leave specific instructions. We offer the option of pre planning to take the burden away from next of kin and to ensure your wishes are carried out.
We deal with all aspects of the pre planning of a funeral i.e. church, cemetery, hymns, and specific requests. We also can estimate so you can budget for this if needed, and offer financial options. We can meet you at your home or our offices to discuss a pre planning.