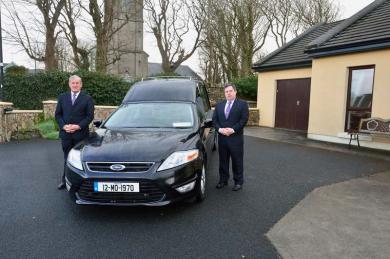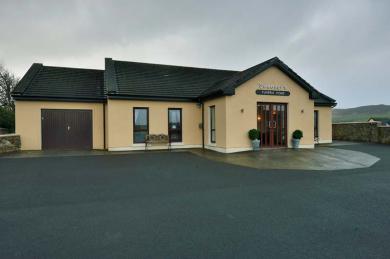 Sweeney Funeral Directors have been involved in the funeral business since 1860. The business having been founded by Michael Sweeney at Church St., Louisburgh, making coffins. The business was later taken over in the 1870s by his son John. The business was then handed on to John's son Michael J. Upon Michael J's death in 1948 the business was run by his wife Catherine (nee O'Grady) and was later handed on to her son Michael A. In 1993 it was then passed on to Michael A's son Peter who runs the business to the present day.
Into the early 1900s there were a number of businesses in Louisburgh providing funeral services including Heneghan's, Mc Hale's, Foy's, and Lyons's. The first hearse locally was purchased by Paddy O' Malley (Paddy Ned) of Furmoyle and up until the 1960s funerals hired the hearse and purchased the coffin from separate businesses. By the 1940s Sweeney's had ceased making coffins and bought in their coffins from Millers of Bray in Co. Wicklow instead. In the 1960s Sweeney's purchased their first hearse and the number of businesses locally providing funeral services had dwindled. In 1983 Lyons Funeral Service ceased business and Sweeney's were the only business providing funeral services locally.
In December 1989 Sweeney's opened their purpose built funeral home at The Glebe, Louisburgh and moved their funeral business from Church St. In 1997 Peter Sweeney qualified as an Embalmer with the Midland School of Embalming in Birmingham and became the second funeral home in Mayo to have an in house Embalmer.